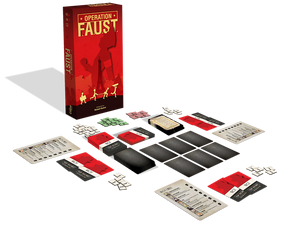 Operation F.A.U.S.T is a bluffing and deduction game that has players take on the role of art patrons in occupied France during the second world war. The goal is to save valuable art from the Third Reich and end the game with the best art collection.
The First Edition of Operation F.A.U.S.T (Fine Art Underground Stolen Treasures) was voted one of the Best Games of 2015 by Popular Mechanics magazine and earned a Dice Tower Seal of Excellence. This new second edition has been streamlined and improved! It also includes all new art and was proudly manufactured in the USA!
WHAT'S IN THE BOX?
The game comes with three different decks of cards (Plot Cards, Art Cards, & Forged Document Cards), plenty of Intel Tokens, 8 Player Aids, and Rules.